Construction
Construction Material:
6000 Series Aluminium Alloy
Grit Tape Insert Material:
60 Grit Aluminium Oxide Formation
Safety Accreditation
Disability Access

Anti-slip
AS 4586.2013 Appendix A – P5 Rating
Grit Tape Luminescence Testing
AS 1428.1-2009 Appendix B, Paragraph B3 Standard.
Results:
| | | |
| --- | --- | --- |
| Grit Tape Colour | Rating When Dry | Rating When Wet |
| Black | 5.3 | 4.7 |
| Yellow | 56.4 | 56.5 |
| Grey | 12.0 | 11.6 |
FREQUENTLY ASKED QUESTIONS.
Is the depth of the stair nosing limited to 10mm?
No.  The body of the stair nosing can extend ANY distance down the riser.  If the luminance contrast strip is located at the front of the stair nosing then that strip cannot extend down the riser more than 10mm.  This installation is to avoid confusing the location of the leading edge of the tread.  The body of the stair noising, so long as it is clearly differentiated from the luminance contrast strip, can extend ANY depth on the riser.
Product Options
Birrus Slimline Stair Nosings (shown here prior to insert being affixed)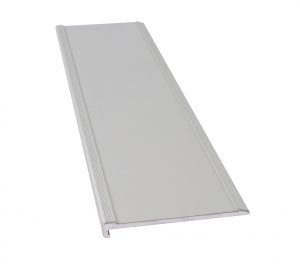 Birrus Bullnose Stair Nosings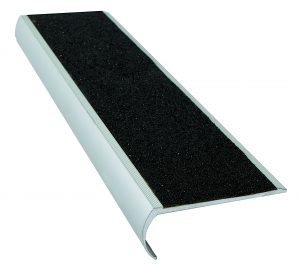 Stair Nosings Dimensions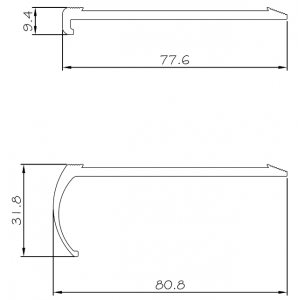 Product Codes
Slimline Stair Nosings
BSN10B  – Slimline Black
BSN10Y  – Slimline Yellow
BSN10G  – Slimline Grey
Bullnose Stair Nosings
BSN32B – Bullnose Black
BSN32Y – Bullnose Yellow
BSN32G – Bullnose Grey
Installation Guide
Slimline Stair Nosings:
Ensure steps are clean, grit, dirt, debris is removed.
Either apply thin bead of polyurethane to the stair or use mechanical fixings in the drilled & counter sunk holes.
Wipe away any glue squeezed out and install grit tape into nosings. 
Bullnose Stair Nosings
Installation of bullnose type to carpet – mark hole locations.
Use a sharp knife and cut an 'x' into the carpet, drill holes.
Install grit tape into nosings.
Warranty
1 Year Warranty (Contact us for warranty details)