Green Tag Certification
Matting System Extrusions
Matting System Insert
System Accreditation & Warranty
Installation
Care & Maintenance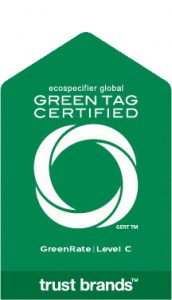 Ecospecifier Green Tag Certified to GreenRate Level C
Matting System Extrusions
Construction Options:
Slimline Open (10mm)
Closed (10mm or 16mm)
Material:
High-quality, 6000-series Aluminium
Non-slip Furrowed Treads
Anodising of Aluminium Extrusions (optional):
15-micron anodised coating in Clear, Midnight Black, Precious Gold or Antique Bronze
Matting System Insert
Insert Material:
Heavy-duty Welvic 5744 soft flexible vinyl/nitrile rubber inserts
Colour:
System Accreditation and Warranty
Fire Safety Certification:
See Resource Section (below)
Slip Testing Certification:
See Resource Section (below)
Environmental Accreditation:
Ecospecifier Green Tag Certified to GreenRate Level C
Warranty:
10-year Warranty (more information) [links to warranty page]
Installation
Birrus Installation Service Available (more details)
Birrus Matting Systems require and internal recess depth of 12mm or 20mm. Standard Birrus matwell frames are fabricated using aluminium alloy, brass and stainless-steel angle for compatibility with our mats.
Place angle in the recess and set angles level with adjoining floor surfaces. Glue in or screw fix as required. Contractors are advised, to ensure proper performance of the entire assembly it is absolutely necessary that the base of matwell is formed to a level plane, using an engineered screed.  We do not recommend sand and cement screed as it will break up over time.
Care & Maintenance
Rubber and vinyl inserts can be restored by wiping over with a damp mop, using a multi-purpose detergent.
Replacement of inserts is a simple job carried out in-situ. A full range of inserts are available from your local distributor.
Restore lustre to ribbed aluminium sections by lightly rubbing over with abrasive wool.